Once again, Torqeedo's growth focuses on efficiency: the renowned company, world leader in marine electric drives, has opened its new operational headquarters near Monaco. It will be right here that the research, development and production departments will meet to fully support the company's activities and its commercial partners.
This is an important step for Torqeedo which, now more than ever, is looking to the future while also presenting its important goals. Torqeedo's Chief Executive Officer discussed it together with Florian Herrmann, Head of the Bavarian State.



The past successful year at Torqeedo
The 12 months that have just been spent within the company have been of great importance. Proof of this are the solutions presented on the reference market, just as explained by the words of its CEO Fabian Bez:
"Over the past year, Torqeedo has strengthened its award-winning product lineup, production capabilities and internal processes and is fully prepared to continue to lead the transformation of the marine industry".
For example, Torqeedo has introduced mechanical components from marine technology leaders, such as ZF for 50 and 100 kW Deep Blue, as well as the Poseidon for azimuth steerable thrusters for water taxi and commercial ferry operations.



3 key aspects for the "new" production
Thanks to the new building, it will be possible to implement an increasingly complete production strategy, focusing on 3 specific aspects:
Streamline production
Improve the quality of products
Reduce waste
This will support a decisive and rapid growth, thanks to the better management of Torqeedo's production lines, which can now be managed side by side and no longer in three remote factories.



The first steps in the new headquarters, between workshops and new technologies
On the occasion of the new headquarters opening, an event was organized with the main customers, strategic partners, but also boat builders, resellers and distributors of Torqeedo. During the event it has been possible not only to admire the new headquarters, but also to take part in a series of workshops, focused on topics of common interest.
For example, there has been a talk on innovation, mentioning a new advanced hydro-generation algorithm by Deep Blue, which improves energy generation to ensure a more sustainable navigation. Furthermore, a new interface that facilitates the management of the DC generator and the entire control experience has been presented.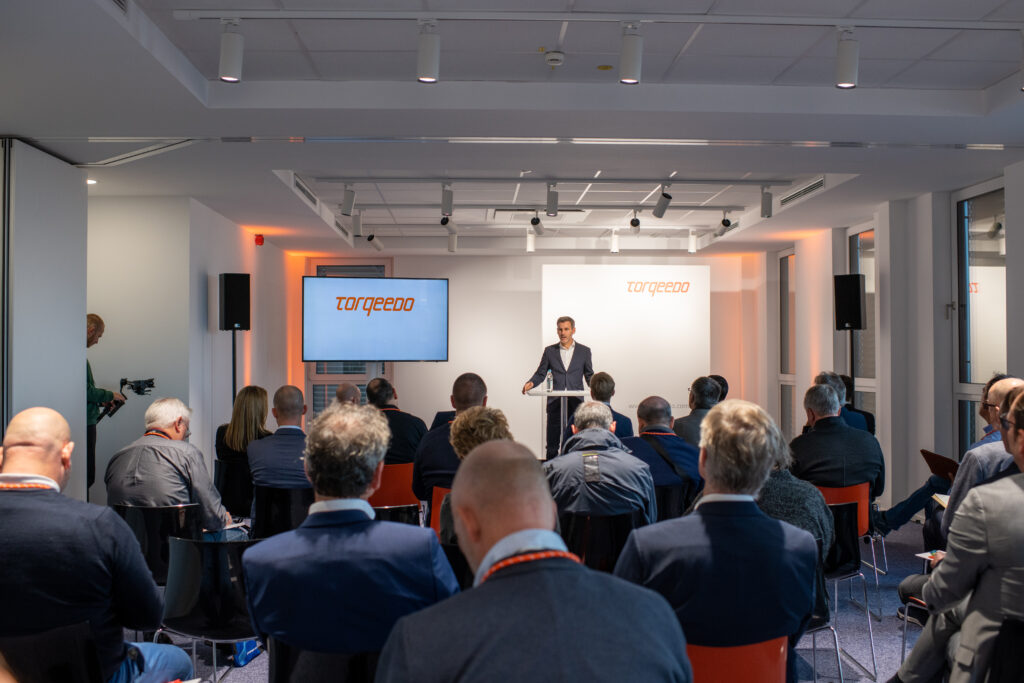 The event was also attended by Florian Herrmann, Head of the Bavarian State Chancellery and Minister of State for Federal Affairs. He himself underlined the importance of technology in being able to propose new forms of sustainable propulsion.

"In the transport sector, in particular, there is still a lot to be done. As Torqeedo, we recognised this trend early on and developed battery-electric drives for watercraft. Today, we are the global technology leader for zero-emission mobility on the water. We will soon produce our two hundred thousandth electric motor and have already filed more than 250 patents," Bez explained.



Torqeedo and the respect for sustainability
For 17 years Torqeedo has transformed and improved the nautical sector by promoting the electrification and sustainability of its products. To do so, it has been necessary to deal with development in technological terms, but also to leverage institutional knowledge and fundamental partnerships to aim straight towards a future without emissions.
That's why its new corporate headquarters are a key addition to supporting clean technology..
"Climate protection and zero-emission mobility are key issues in Bavaria on the way to climate neutrality, in which we are investing over 22 billion euros by 2040 with a climate protection offensive," commented Herrmann in his speech at the headquarters grand opening.
Torqeedo not only helps to open new dimensions in sustainable mobility, but its name has long been associated with the world's leading boat builders and technology partners, ready to support real electrification in different sectors.
"Torqeedo is also proud to be a trusted supplier for a wide variety of commercial and recreational OEMs and was recently named the electrification partner for Groupe Beneteau's sailing, real estate on the water, and mindful cruising business areas," remembered Bez.
And Torqeedo appears to already have clear ideas about what it will present in the coming months to improve the future, starting from its commitment related to electric mobility on water.