The Moonwave catamaran
Three years ago, the high-tech Moonwave catamaran became one of the first boats in the world equipped with a Torqueedo Deep Blue Hybrid power management and hybrid propulsion system.
Forty nautical miles later, the crew and the owner, Stephan Schambach, share their experiences and knowledge exclusively with the Torqeedo community.
Even in heaven, life can test us. During its round-the-world tour – in early spring 2021 – the Moonwave catamaran was sailing in the Indian Ocean. "Sunsets are amazing," notes Sophie, a crew member who prefers to appear only with her name on the Moonwave web page. Between Bali and Sri Lanka, they spot numerous dolphins, manta rays and belugas.
But chaotic wind conditions in this equatorial region force the Moonwave to veer further north.
"Unfortunately, the weather forecasts were totally unreliable: instead of 10 knots of wind we often had only one, two or at most three," says Sophie. Moonwave was able to show how the combination of sailing skills and dexterity, together with sustainable technology, could minimize the CO2 footprint in the environment, even in difficult sailing conditions. "We only used the engine to move between one gust of wind and the other." Sometimes the crew would add 1 KW of power to increase the apparent wind, fill the sails and increase the speed by a couple of knots. Thanks to the Deep Blue system, there was always enough battery capacity on board to sail all day, without needing to run the generator.
When they arrived in the Seychelles, they covered 4,800 nautical miles instead of the expected 3,800 as the crow flies. The diesel tank was still a third full. "Our tanks are smaller than those of same-sized boats. A good feeling then, well planned by the captain" says Sophie.
Moonwave is not only one of the most luxurious sailboats, but also a cutting-edge project that brings a new concept of mobility. In 2018 the catamaran became one of the first boats in the world equipped with a Torqueedo Deep Blue Hybrid propulsion and energy management system. Two Deep Blue 25 electric saildrives ensure Moonwave is able to explore the oceans while minimizing harmful emissions. Solar panels and a hydrogenation system recharge the battery with clean energy. The diesel generator is rarely and very carefully used.
Since 2018 the catamaran has traveled over 40,000 nautical miles and crossed three oceans. "We've circumnavigated three quarters of the world – in the right style and in perfect comfort," says Sophie. "And we managed to cover up to 1,200 nautical miles without using a drop of fuel." This is exactly what Moonwave was created for. "It's the ultimate level of freedom," says Stephan Shambach. "Everything else, even flying, is highly regulated. Moonwave can sail thousands and miles on the other hand, we just need vegetables: our protein comes from fishing, while water comes from the watermaker".



Navigating in pandemic times
Being independent has been the criticality of recent times. When COVID-19 started spreading around the world in the spring of 2020, Moonwave was en route to Panama City in the South Pacific. "Seasons and weather don't wait for countries to open up, and a safe haven sometimes seems far away," Sophie points out. Moonwave rarely has to dock to replenish diesel or water. A big plus in this situation.
Originally the plan was to sail to New Zealand, but, after a short stop in French Polynesia, they traveled through tropical paradises that were closed due to the pandemic. They then continued, until January 2021, when they arrived in Bali, Indonesia, and the crew was finally able to enjoy a short break.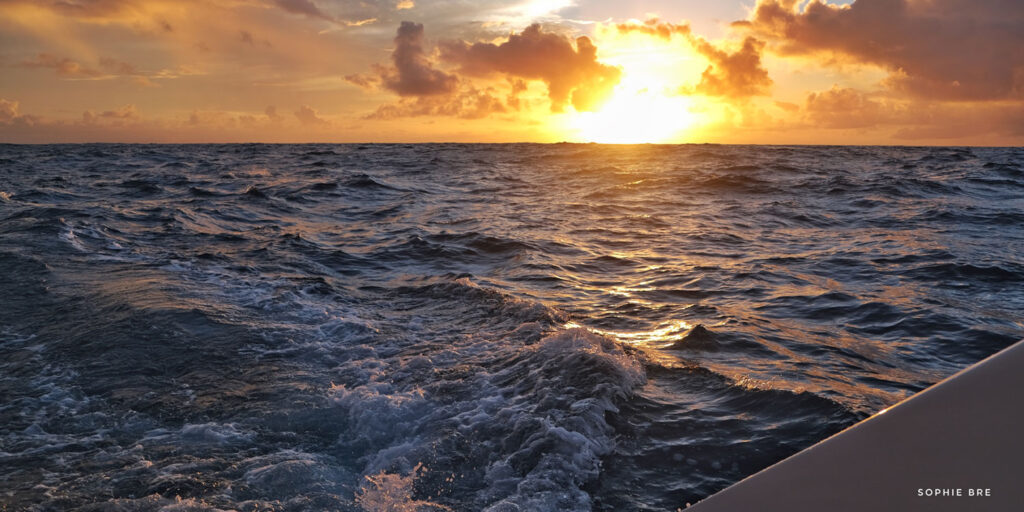 Moonwave is a dream come true. German entrepreneur Stephan Schambach wanted to explore the oceans in silence, without the noise from a diesel engine, so he was looking for a catamaran with an electric-hybrid propulsion system. But, until nine years ago, he hadn't been able to find it. In the mid-1990s, Schambach developed the first ever software for online shops. He has shaped the e-commerce industry since its early days and has founded several billion-dollar businesses.
But Schambach wasn't happy with the answer "it can't be done", so he started a company, the Moonwawe Systems, with the idea of developing electric drive systems. "It was more of a real passion than anything else, in fact, I often combine passions with entrepreneurship," he recalls.
Moonwave System soon began working with Torqueedo to perfect the hybrid system. The entrepreneur and digital expert was comfortable developing the sustainable driving process and energy management system. "The software was, and is, the most complex and expensive part of the Deep Blue system. It's no different than what I'm used to, but it adds the complexities of hardware supply chain and manufacturing challenges," he says. In 2012, Moonwave was launched. "Since then, we've seen a lot of innovation and progress."



On long ocean crossings, the captain and crew are usually alone, like astronauts on their way to Mars. "For many years, we've been used to being together 24/7, so I guess that first of all, cohesion between the crew and the boat is essential," says Sophie. "No two days are the same, which is why we are always on the alert and are rarely bored."
The most important factor for long-distance cruising and ocean crossings is the range and the ability to trust onboard systems and components. Since the hybrid system was installed, there have been no serious problems. "Since the hybrid system requires little maintenance, it leaves us time to focus on other equipment and on developing new systems for the boat," say other crew members.
Every few months, support engineers at Torqeedo's German office send a remote software update to Moonwave. Just recently, Moonwave has in fact received another battery upgrade from 30 to 40 KW without affecting the impact of harmful emissions, which in fact remains the same as the previous one. After each update, all functions are tested and the journey continues.
The hybrid system not only offers advantages in terms of propulsion, but also increases comfort and convenience on board.
"During ocean crossings we have no need to use the generator since the hydro-generator and solar energy are enough to power the yacht – wind and weather permitting" says Schambach.
The solar modules provide enough energy for several days while the yacht is anchored with only the crew on board. With eight guests on board, the battery needs to be recharged for up to 30 to 45 minutes a day. "This provides enough power to entertain ten people, including use of toilets, an elaborate electric kitchen and the watermaker," says Schambach.
Moonwave crew unintentionally tested this setup for a very long time in 2020. "We found ourselves spending several months anchored without access to land or technical supplies," Sophie recalls. "Moonwave's range and reliability were key, like when we're on the high seas."
Although the Moonwave crew spent most of their time thousands of miles from land, they have still been able to notice a change in the world. Off the coast of India, they passed countless fishing boats that barely caught a fish. They also collected numerous plastic bags from the water, watching as raindrops left soot stains on the boat.
Moonwave is a project which is close to the heart of the owner, the crew and, of course, Torqeedo.
"Generally, sailors are always particularly connected with nature, they have a strong respect and have a humble approach towards it" says Sophie.
It's certainly commendable that Moonwave creates low CO2 emissions and is so silent, but it's not just the boat or the technology that makes it so green, it's the way it's used. "This means sailing in line with weather, climate and wind conditions and respecting the seasons – and this sometimes means taking your time and not going against the wind and currents".



Moonwave has now been in the water for nearly ten years, but is still far from reaching the end of its journey.
When visionary and technology expert Stephan Schambach looks to the future, he sees an "all-electric boat with a hydrogen-powered range extender and an electric-only range of up to 3,000 miles."
He expects advances in materials research to make yachts even lighter and more dynamic, and intelligent computer systems to aid in navigation. By 2030, he states, "Yachts will be electric or hybrid only. Why shouldn't they be? The technology already exists today." And Moonwave is the best proof!