Orphie 29: the trimaran for navigating the Côte d'Azur in total relaxation, silently and with zero emissions, thanks to the Torqeedo engine.
The Orphie Boats founder
Without exaggeration, we can state that Orphie Boats would probably never have been founded without the Isles of Hyères. "I thought for a long time about how I could share my passion for this place with as many people as possible," says Yann Herriot, founder of Orphie Boats. So, a little over two years ago he devised a way to build a boat that was as peaceful and relaxing as a sailboat, yet offered the same flexibility and ease of use as a motorboat and that at the same time it could be used to explore sensitive ecosystems such as the Golden Islands, without harming the surrounding natural environment in any way. In May of this year, the dream turned into reality and, if all goes according to plan, Orphie Boats could change coastal navigation around the world.
A wonderful place can be a great source of inspiration for many people. Yann Herriot, founder of Orphie Boats, is one of them. He grew up in Hyères, a small port on the Côte d'Azur, in an area that encloses a nature reserve that forms three dots on the map, at the southern end of the coast: these are the Isles of Hyères, also known as the "Golden Islands" thanks to their glittering golden cliffs.



Orphie 29, the electric trimaran
"In many details, we tried to think in a fundamentally new way," says Herriot. For example, the table in the dining area can be stored in the T-top, which is also covered in solar panels to power the power unit and refrigerator and to conserve battery power. Herriot describes the feeling you get on the trimaran: "The idea is that a day on the Orphie 29 should be the one day you remember from the summer."
Orphie 29 is an elegant electric trimaran of almost nine meters that can accommodate up to ten people. The boat is powered by a Torqeedo Deep Blue 50 kW outboard with a 40 kWh BMW i3 high-performance lithium battery, providing enough energy for a range of up to 30 nautical miles (approximately 55 km). The slim central hull houses a cabin, toilet, low double berth and refrigerator. Relaxation space is provided by two large trampolines and the carbon fiber T-top provides shade in the dining area.



A turnkey charter
The Orphie 29 is a turnkey charter yacht with all related services included ranging from maintenance and training to a digital platform for marketing and bookings. Potential clients are day charter providers, hotels or yacht clubs offering the Orphie 29 for charter for day trips. The first boat, which has been in operation since July, is used by the Riding Watt company and the catamaran charterer Philisa Apaca in Hyères.
"We want our boats to be in use, if possible, every day and still look nice after 5-10 years," says Herriot. Using plywood as a building material also has the advantage of allowing Orphie Boats great flexibility in the production of all future models: the plywood panels are precisely cut to size using a 3D digital model and then assembled. "This makes our approach incredibly innovation-friendly," says Herriot. "If we want to incorporate a new or improved feature, all we have to do is adjust the 3D model." In a young sector such as electromobility on water, Herriot believes that this feature is extremely important. Furthermore, the assembly of the modules is relatively easy, so even the smallest shipyards may be able to build an Orphie 29. "We can manufacture our boats locally rather than having a centralized manufacturing facility in Europe and shipping boats all over the world," Herriot says.
"The Orphie 29 was designed for commercial use," says Herriot. This orientation has also significantly influenced the design, especially the use of materials. "A key aspect was the decision to build the boat out of plywood," continues Herriot. A choice that offers a wide range of advantages. First, the starting material is much more sustainable than the plastic generally used to build boats; moreover, repair and maintenance are easier to carry out. While plastic deteriorates and discolours over time, the Orphie 29 can easily be repaired using new wood and some resin.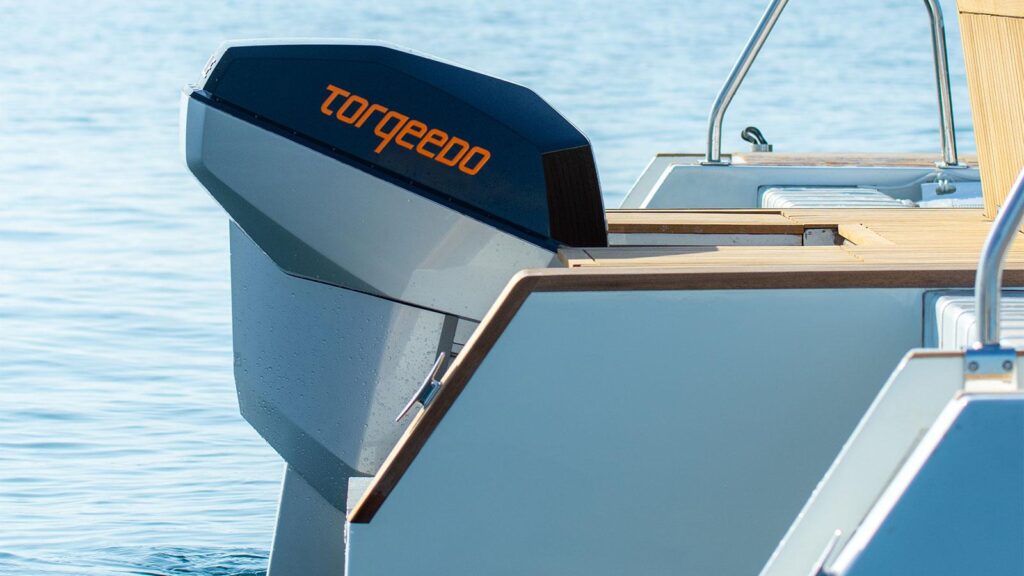 A great challenge for Torqueedo
"We quickly realized that a trimaran was the logical choice for an electric boat," says Herriot. Not only does a multihull design have the advantage of being lighter than a conventional monohull, it is also much more efficient due to the less drag. What was also clear to Herriot from the outset was the use of a Torqeedo drive system. "The Orphie 29 is all about having a relaxing day on the water. So, it was hugely important to us that the technology on board was reliable and easy to use." he says. Another issue he kept in mind was the safety factor. "The fact that Torqeedo's batteries are equipped with automotive-grade safety technology gave me great peace of mind," adds Herriot.
"Developing the Orphie 29 was a great challenge," says Jeremy Benichou, Global Account Manager at Torqeedo who has been managing the project for the past two years. "We were involved in the design process right from the beginning and worked together to find the best solutions. This allowed us to find a design that was consistently focused on electric propulsion."
So far, customer response has been very good and day guests have been particularly enthusiastic, as Herriot comments: "A lot of them forget during the day that our trimaran is fully electric. Then they suddenly realize you can have such a great day without pollution and noise.".
Herriot plans to build three more boats this year and expand its winter business in the West Indies so that more and more people can experience its beloved sea without polluting the environment.
As stated by Benichou, "Orphie Boats has accomplished something previously thought impossible, designing a completely electric day charter for commercial use on the open sea."