It was 2006 when Torqeedo launched the revolutionary Travel electric motor on the market, which debuted during the famous Boot Düsseldorf fair. The response was practically immediate: from that moment on, the entire nautical community recognized the beginning of a new era. It's no coincidence that the Travel engine, within just 6 months, was included in the list of the "100 best sailing products of all time".
But how did the great journey that led to the real revolution, known today as electromobility, begin?



The first steps of the original Travel engine
When modernity and technology were still a distant goal, inside a modest log cabin on the shore of a lake in Bavaria (Germany) two men were about to start a radical change. Torqeedo co-founders, Christoph Ballin and Friedrich Böbel, weren't satisfied with electric boat motors in the early 2000s. They were still considered underperforming and not able to offer important advantages. Ballin himself explained:
"We quickly realized that if we applied 21st-century technology, we could take them to a higher level."
Thinking about the typical type of day spent on the water, they began to think together about the useful possibilities to improve the sailing experience. And somehow it's from that reasoning that the idea of the Torqeedo Travel engine started.



The birth of Torqeedo Travel
Torqeedo Travel has become a real alternative to combustion engines: it was equipped with lithium-ion batteries with 24 times more power than competitor engines. Furthermore, it could ensure greater lightness, more efficiency and important improvements also in terms of design.
The Travel engine immediately knew how to combine superior technology with important benefits, not only for enthusiasts, also in terms of responsibility towards the environment. Without forgetting that there is no need to have a motorboat license to use it on protected lakes.
The first prizes for such an innovative project arrived within a very short time and the most important recognition arrived in the autumn season of 2006: the British magazine Yachting Monthly included the Travel in its list of the 100 best products of all time for sailing. And from that moment it defined the entire market, starting a new standard.



Updates and enhancements for the "new" Travel
Many things have changed since then: first of all, the Travel motor has been perfected, introducing the new Travel 1103C model in 2023. This solution has a range of 3 times greater than the original motor up to 75 km at 4 km/h.
In all these years Torqeedo has been able to distinguish itself as a company attentive to risk and aimed at improving a series of solutions oriented towards digital technology.
"We were operating at tremendous speed and really wanted to be first to market," said one of the company's longest-serving engineers, Mr. Jens Biebach.
And talking about speed, the results were not missing: for its propeller, a collaboration was born with the Potsdam Shipbuilding Institute, leader in naval technology, which took inspiration from research performed on large surface ships and various submarines. All with a production that led to the testing phase inside a pool that Torqeedo had installed at its headquarters.
"An electric motor is born to move people and goods because of its instant high torque," continued Jens Biebach.
And so, if the small outboard combustion engines had overall efficiencies of less than 10%, the Torqeedo engines had already reached values of 44-56%.
The current situation and the affirmation of Torqeedo Travel
Thanks to various studies and constant research, a fully integrated propulsion system has been developed. Because as Biebach himself explained, if the drive is complex, all the components must be able to coordinate with each other. The motor, to date, is considered so reliable on the market that it has led Torqeedo to extend the warranty period to five years for models of this type.
On-board computers with GPS-based range calculation were introduced a couple of years ago. And it also offers the possibility of easily and conveniently replacing the 915 Wh lithium-ion battery with a backup power supply, or of producing an autonomous charge with the energy generated by solar panels while navigating on the water.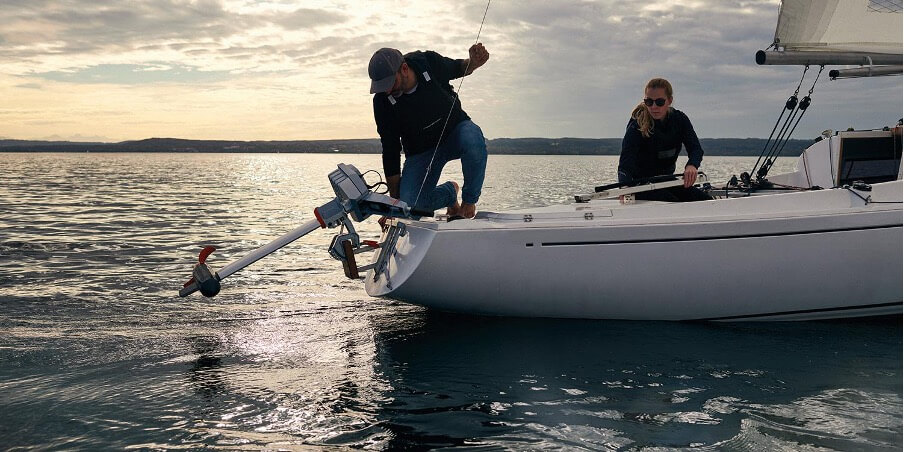 It all started with those two men, and today Torqeedo has been able to sell over 200,000 electric motors, becoming the market leader in electric and ecological mobility on water.
Step by step, it will be possible to continue the path of innovation, always offering new solutions and fascinating advantages for the nautical community.